The Plaza Chiang Mai Design Type 1 : Home Page
01 | 02 || 03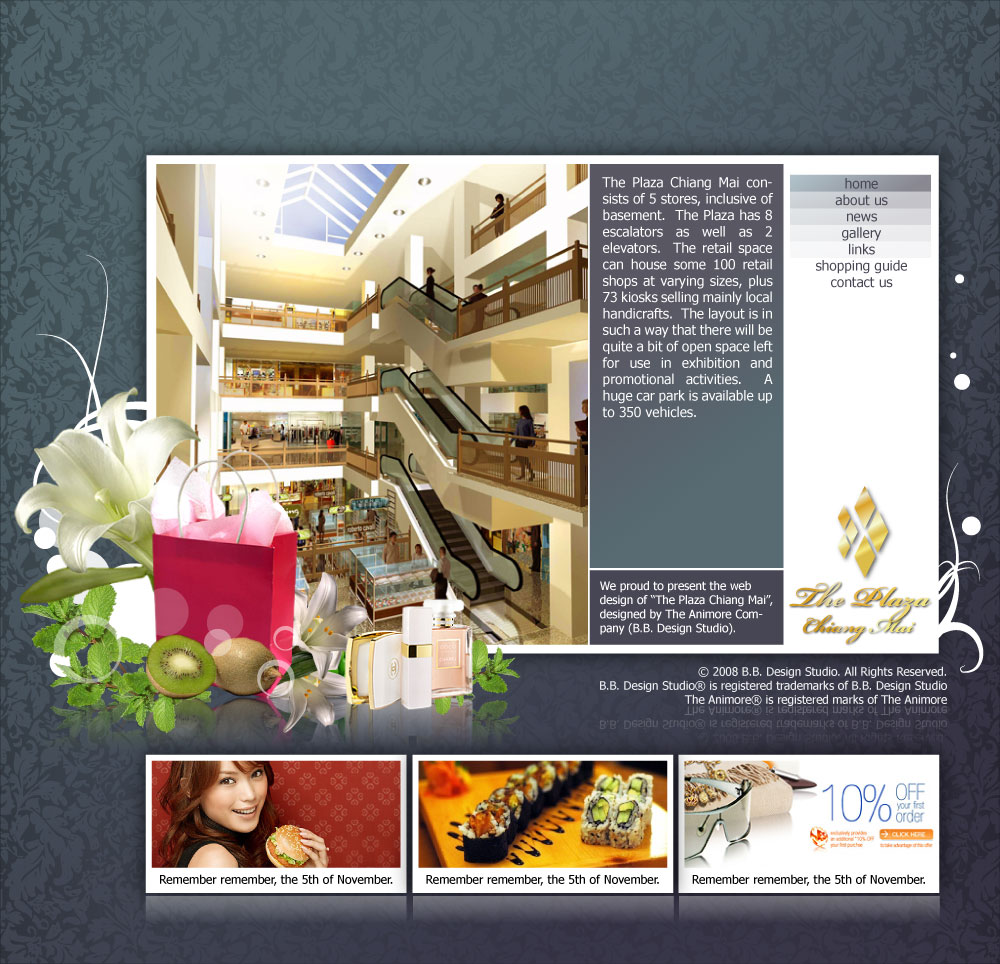 We proud to present the web design of "The Plaza Chiang Mai", designed by The Animore Company (B.B. Design Studio).
The Plaza Chiang Mai
A Boutique Shopping Destination
At Night Bazaar in Chiang Mai, Thailand
The well-known Chiang-Inn Plaza at the Night Bazaar, right in the heart of Chiang Mai City, has been extensively renovated into a lifestyle and upscale shopping complex.
The Plaza Chiang Mai consists of 5 stores, inclusive of basement. The Plaza has 8 escalators as well as 2 elevators. The retail space can house some 100 retail shops at varying sizes, plus 73 kiosks selling mainly local handicrafts. The layout is in such a way that there will be quite a bit of open space left for use in exhibition and promotional activities. A huge car park is available up to 350 vehicles.
The super prime location of The Plaza Chiang Mai
By choosing The Plaza Chiang Mai, investors and their businesses will be set to reap the benefit from the prime location (Chang Klan Road, Night Bazaar) and its proximity to all groups of customers. The Plaza Chiang Mai is surrounded by more than 20 hotels and over 15 guest houses. The area is also the central meeting point for both Thais and foreigners in Chiang Mai.
The Plaza Chiang Mai selects the finest shops, uniquely designed products, and well-known international restaurants to serve both tourists and residents of Chiang Mai. Events and activities are planned throughout the year.